02.16.2023
Trinity University Trusts Tarkett Sports for Turf, Track and Construction
Tarkett Sports delivers a turnkey solution for Trinity Tigers with its leading product portfolio
Over the past decade, Tarkett Sports has collaborated with San Antonio's Trinity University on numerous projects to enhance its athletic facilities and corresponding student experience. The latest initiatives tied to these efforts, which are part of the university's ongoing Athletics Master Plan that was announced in 2020, include the recent installation of new baseball and softball surfaces as well as an upcoming practice football field.
These installations build on the extensive relationship between the two organizations, which has seen Trinity University benefit from Tarkett Sports' inclusive portfolio of solutions, including artificial turf, running track surfacing, athletic flooring, civil construction, design services, and more.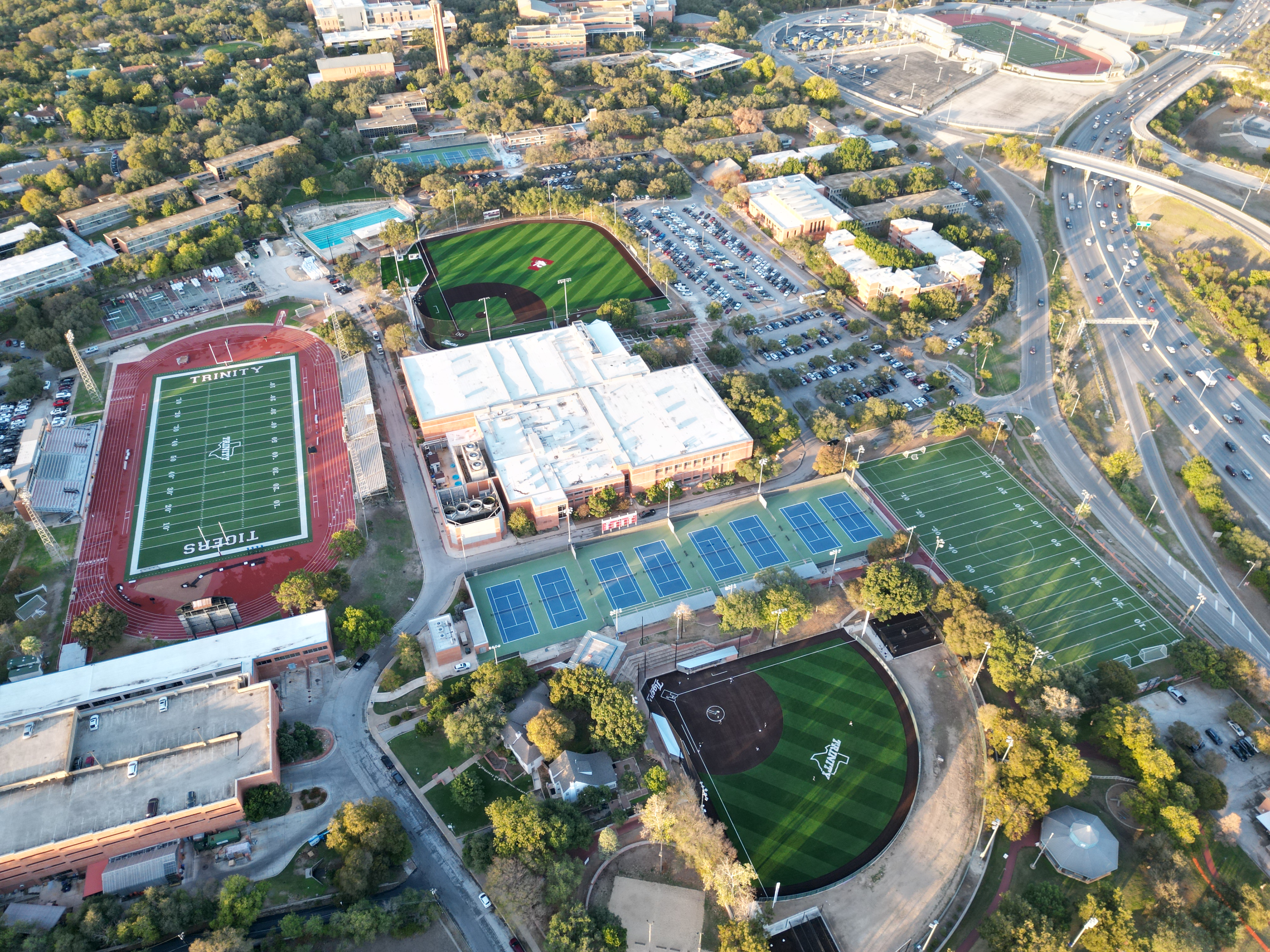 Tarkett Sports Projects at Trinity University include:
E.M. Stevens Baseball Field: FieldTurf DoublePlay Series
Jesse H. Jones Softball Field: FieldTurf TripleThreat Series
Trinity University Stadium (football): FieldTurf's Vertex Prime with CoolPlay
Trinity University Stadium (running track): Beynon Sports BSS 1000 [resurfaced in 2022]
Jim Potter Intramural Field: FieldTurf System
Tarkett Sports Construction oversaw the implementation of FieldTurf's state-of-the-art artificial turf systems to Trinity's E.M. Stevens baseball field and Jesse H. Jones softball field, respectively, from the design stage to their build and installation. Developments to both venues had long been in demand as the baseball field had not received significant upgrades since 1992, while the softball field had been waiting for similar improvements since 2007.
In addition to the turf conversions, Tarkett Sports Construction took the lead on implementing upgrades that encompassed new dugouts, facility lighting, backstop netting and player development areas with flexible netting to increase training opportunities. These enhancements also included audio-visual coordination and future-proofing with TigerTV – Trinity's closed-circuit television station.
Emphasizing Tarkett's collaborative approach, the project saw designers and construction staff work with campus personnel and coaches to overcome challenges posed by the position of the fields in relation to other campus facilities. Tarkett used 3D renderings of the dugouts to align with the campus aesthetic while also employing a design-build delivery method that allowed Trinity stakeholders to request and evaluate prospective changes efficiently and optimize their decision-making process.
These joint efforts informed design choices, including the cast-in-place concrete baseball dugouts, which are sunken 18 inches and feature custom cantilevered player benches and custom bat and helmet storage conceptually designed by FieldTurf and improved through coordination with coaches. The softball dugouts, which feature similar bench and storage solutions, were built on top of the existing dugout slab using brick to match the rest of the campus.
Highlighting the work done at E.M. Stevens Field, home of the Trinity Tigers baseball team, is the inclusion of FieldTurf's DoublePlay Series, which the team officially debuted at their home opener earlier this month. At the Jesse H. Jones Softball Field, FieldTurf's TripleThreat Series – the first system designed specifically for softball – will see the team benefit from an industry-leading solution with a reputation for pushing the boundaries of testing and product innovation. The team's home opener is on February 26th.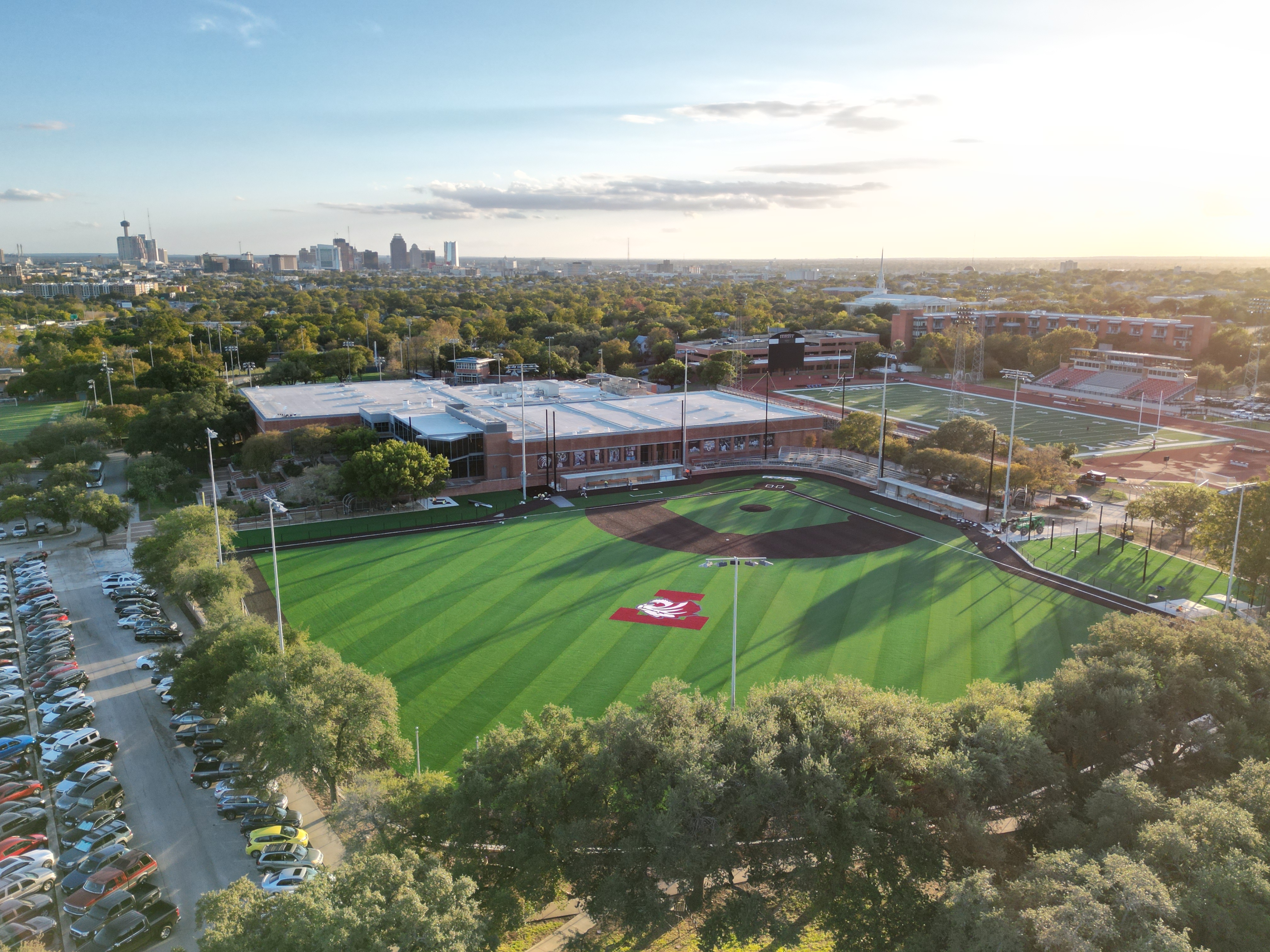 The DoublePlay Series and TripleThreat Series are each a result of rigorous testing conducted on the nation's elite grass, clay and turf facilities. These evaluations helped to analyze ball-surface interaction, speed and consistency. Using high-tech motion cameras, FieldTurf's engineers also interpreted data as it relates to the products' three critical performance criteria - ball speed, ball line and ball bounce.
"We're very proud to see the long-standing relationship between Tarkett Sports and Trinity University continue to thrive," said Eric Daliere – President, Tarkett North America & Tarkett Sports. "In all our collaborations, we strive to provide the best experience possible at every step of the journey. With our expertise across a wide range of products and services, that's something we've been able to offer time and time again."
About Tarkett
Tarkett Sports is a world leader in sports surfacing. Locally in Texas, Tarkett Sports and its family of brands are trusted by the University of Texas, Texas State, Texas Tech, Texas A&M, University of Texas at San Antonio, University of North Texas, and University of Houston, to name a few.