02.13.2023
Under Armour Trusts Local Maryland Company, Beynon Sports, for Running Track at Port Covington
When Under Armour unveiled plans for its new global headquarters in the Baltimore City neighborhood of Port Covington, which features a new track & field facility, local Maryland company, Beynon Sports, was instantly drawn to the project and highly motivated to be involved.
Founded by John T. Beynon over 40 years ago, Beynon Sports is a world leader in sports surfacing and the trusted choice of elite venues worldwide. When John T. Beynon was growing up in Baltimore's Howard Park neighborhood and ambitiously delivering newspapers at the age of 12, he never dreamed he would develop one of the most iconic brands in sports surfacing.
"We take great pride in being trusted by Under Armour for its Port Covington headquarters," said John T. Beynon, President, Beynon Sports. "Located in our backyard and for a renowned Baltimore company, this was a dream project for our team. We're thrilled to be at the surface of what will become an iconic venue in Maryland."
The project features Beynon's BSS 2000 system, which features a force-reduction layer of high-performance butyl rubber and two-component polyurethane that propels the athlete forward. Installed at over 80 high-profile venues, this track system is renowned across the globe as the best track surface. The 8-lane track features a bright red oval with mid-grey exchange zones overlooking the Patapsco River and Chesapeake Bay.
Just south of Federal Hill, Port Covington is one of the most significant current development projects in the country and is in the midst of a multi-year transformation that will turn this former industrial port into a hub for water taxis, distillery visits, movie and concert viewing, and shopping trips.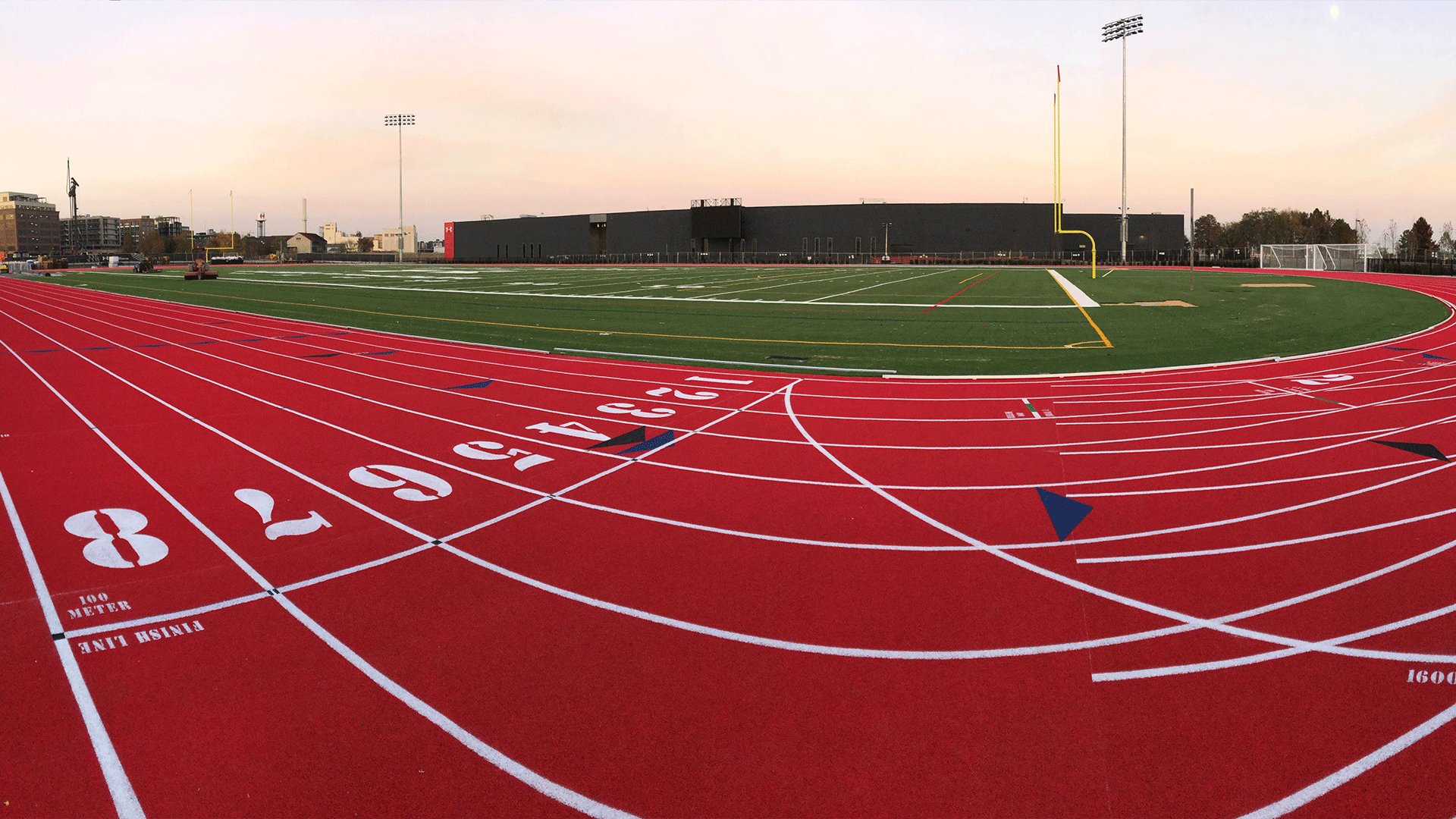 Manufactured in the U.S., Baltimore-based Beynon Sports employs hundreds of American workers with locations across the country and has completed over 7,500 installations, including Under Armour, The Track at New Balance, Hayward Field – University of Oregon, Nike's Oregon headquarters, Morgan State University, Wesley A. Brown Fieldhouse at the United States Naval Academy, Towson University, and the University of Maryland to name a few.
Beynon Sports is the leading manufacturer of World Athletics Class I Certified Facilities in the United States - Auburn, Texas A&M, Kansas, Oregon, and Texas at San Antonio, and has surfaced over 50 World Athletics Class II Certified Facilities.
The project was executed with The Whiting-Turner Contracting Company, also a local Baltimore company, and Clark Companies, an Official Beynon Sports Partner, who oversaw the base construction and site work for the project.